* Sally Hansen "Complete Salon Manicure" nail polishes. I bought this nail polish (in the shade shown) at Target the other day on a whim, and it's my new favorite brand! I've been trying not to get manicures or pedicures lately, but it seemed like no matter what quality of polish I was using, I couldn't get my nails to look good. This polish goes on smoothly, dries in a flash, and looks great. The brush is also a little wider than most, making it easier to cover the nail in less strokes. I'll definitely be buying more colors!
* Anything and everything pumpkin. (I doubt this needs any explanation.)
* The new Mumford and Sons album. If you don't know who Mumford and Sons are, you are missing out.
* The new snack I came up with a few weeks ago: Greek yogurt mixed with a spoonful of all-natural strawberry preserves, as a dip for apple slices. It's seriously amazing.
* Yoga arm balances. I managed to get into the one pictured below (scissor-legs side crow) last week, although of course it is still going to need some perfecting.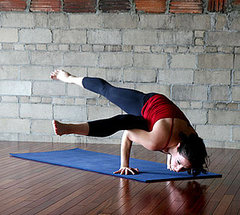 * My philosophy class. I honestly never expected to enjoy philosophy, but thanks to a very unique professor (he is hilarious), it is the highlight of my class days.
* The return of all my favorite fall TV shows.