So, a group of friends and I decided to carry out an idea that
Jesstagirl and Her Officer
came up with: "Bake-N-Blog"! All of us picked a cupcake recipe from
Ming Makes Cupcakes
and baked them, taking pictures of the process. I chose the "Peanut Butter Cupcakes with Peanut Butter Frosting and Chocolate Ganache" because I knew my peanut butter-adoring husband would definitely help me eat them. =)
Anyway, with that introduction, let's get started!
Here's all the ingredients:
The dry ingredients mixed up, and my cup of peanut butter (I absolutely love this measuring cup from Pampered Chef for messy solids like peanut butter!):
Mixing up the peanut butter, butter, brown sugar, egg, and vanilla:
Then I added part of the milk:
And part of the dry mixture:
And repeated that until the wet and dry mixtures were all mixed in and the batter looked deliciously silky and luscious like this:
Of course I followed it up by licking the beater...who wouldn't??
I lined the cupcake pan and filled each one:
Then they went into the preheated 350-degree oven to bake up into yumminess.
After 20 minutes, I wanted one RIGHT THEN.
But first they needed icing, so I mixed up more peanut butter and vanilla:
Then I added some milk:
And powdered sugar.
Then I started the ganache, which is just cream and chocolate chips. I did not own a traditional double boiler, and they were much too expensive to buy, so I put a metal bowl into a pan full of water and it worked perfectly!
The finished icing looks amazing.
The chocolate is melting:
It's all melted after a very short time, so I took it out of the simmering water.
Then I iced the cupcakes!
And drizzled on the ganache:
Ahhhh there is NO way these can NOT be amazing.
I prepare to dig in!

So, my official review:
I give these cupcakes 5 stars. The cake is soft, rich, and peanut-buttery, and together with the icing, it melts in your mouth. The ganache was super easy and the perfect finishing touch. I will definitely make these again!
Here's the actual recipe: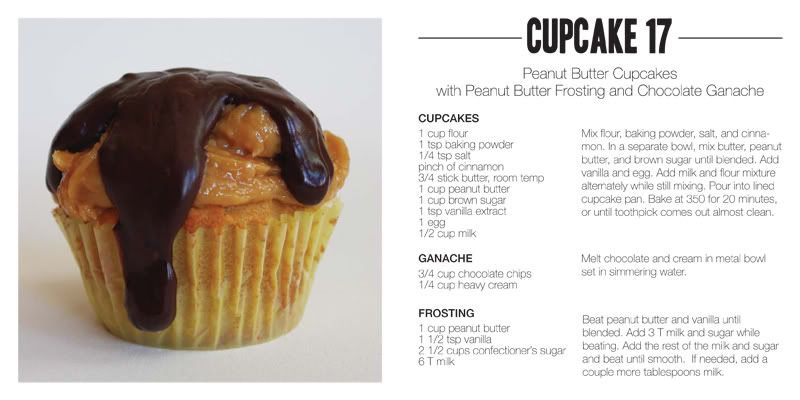 P.S. Taking pictures while baking/cooking is an interesting process--I felt rather stressed about it. How does the Pioneer Woman do it almost every day??