Do you have any idea how exasperating it is to have caught the organizing bug when all your household goods are currently crammed in boxes on a moving truck somewhere between Washington and Texas? Auggghhhhh!
As much as I've been looking forward to having my stuff back, a little part of me was dreading it. We don't have a ton of stuff as far as furniture goes, but we do have a lot of other stuff (ie, clothes, Army gear, books, camping equipment, papers, etc.). Our new house has a few rooms that are the same size or bigger than our old one, such as the kitchen, living room, and bathroom, but the rest of it is going to provide more of a challenge and truth to be told, I've been worrying about trying to fit into a slightly smaller space.
That changed when I found
IHeart Organizing
and discovered there are plenty of ways to make a small space work! The key is to organize that space effectively. =) I have found so many perfect ideas and put a handful of cheap organization items in wish lists online so I can order them and get to work right away when our stuff arrives. Here are some areas I'm excited to work in the most:
1) KITCHEN
As I mentioned, our new kitchen is a good size with a lot of cabinet space. However, being a cooking and baking enthusiast, I have a TON of kitchen stuff. And if I don't purchase some tools to keep it all displayed and stored effectively, I'm going to feel like I'm bursting out of the seams again. Particular collections I need to work on are my pots and pans, baking pans, plastic food containers, and herbs/spices. I have plans for all of them! For example, I'm getting 2 of these for my herb/spice collection: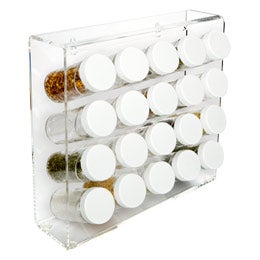 2) PAPER
Oh my gosh, we have SO MUCH PAPER everywhere in our house! I have always sucked at keeping paper organized. We have one small and overflowing file cabinet that we may not have room for now, so I am going to clean that out and utilize
a binder system
instead that can be stored on our bookshelves. I'm also going to come up with a better system for sorting and storing things that come in the mail. And one more thing that is a top priority: magazines! One whole bookshelf in our bookcase is taken up by several years' worth of Real Simple and In Style magazines! Ridiculous. =) I'm going to go through them all, tear out any pages I want to save (both magazines have lots of ideas and pictures I would like to have filed somewhere for reference), store them in an indexed binder, and then get rid of the magazines. If I make a habit of doing that as magazines arrive in the mail, I'll never have to deal with this problem again. I've already done this with a cooking magazine I subscribed to for awhile, and it has worked out amazingly. Plus I actually end up trying the recipes. Go figure! ;-)
3) BEDROOM
Our new master bedroom is a little smaller than our old one, and the closet is definitely smaller. However, it's still a good-sized closet and if both mine and Andrew's stuff won't fit in there comfortably, it obviously means I have too many clothes. =P I've gotten a lot of ideas for making the most out of a small closet space, so I'm excited to implement them and do some more purging. I've also decided I'm going to sell my cedar chest. It's this model exactly:
It makes me kind of sad to think of getting rid of it, because I wanted one for a long time growing up, finally got it for my birthday about a year before I got married, and used it to store stuff for my future house. But...we are not going to have room for it, and it's not the finish I would pick now. Cherry completely clashes with all of my black furniture and it has bugged me for awhile. One day I'll get another one, in a lighter finish so that it complements the rest of my decor.
So, as you can see I have my work cut out for me! =) But I have the next few months off from work or school, which makes this a great way to use my time. I will be putting up pictures and status reports of my progress, so stay tuned!